Our newest creation is a pair of custom friendship pendants. This friendship spans 36 years, five states, high school pranks, college parties, boyfriends, husbands, and kids. They even share a birthday, one a Sagittarius, born on November 24th, and the other precisely six months later, a Gemini on May 24th.
A Friendship Set in the Stars
Rebecca, the Sagittarius, wanted a way to honor this sister-friend and their many years together. Her proposed design idea began with their birthstones and star signs.
"Can we make a simple gold pendant with my zodiac sign on one side hers on the other? And can we place my birthstone (Topaz) in one of the zodiac points on my friendship pendant and an Emerald (her birthstone) on the other?"
Of course, we could. We can design just about any custom jewelry you can dream up. When you are starting from scratch, so many things are possible.
Custom Design Starts with a Conversation
The first step is always a consultation with our custom jewelry team. Rebecca and our in-house designer, Annӓ, did their homework. They researched zodiac pendant designs online, determining the size needed and what would fit into the budget. They also drew a few rudimentary sketches.
The Right Gemstones for Friendship Pendants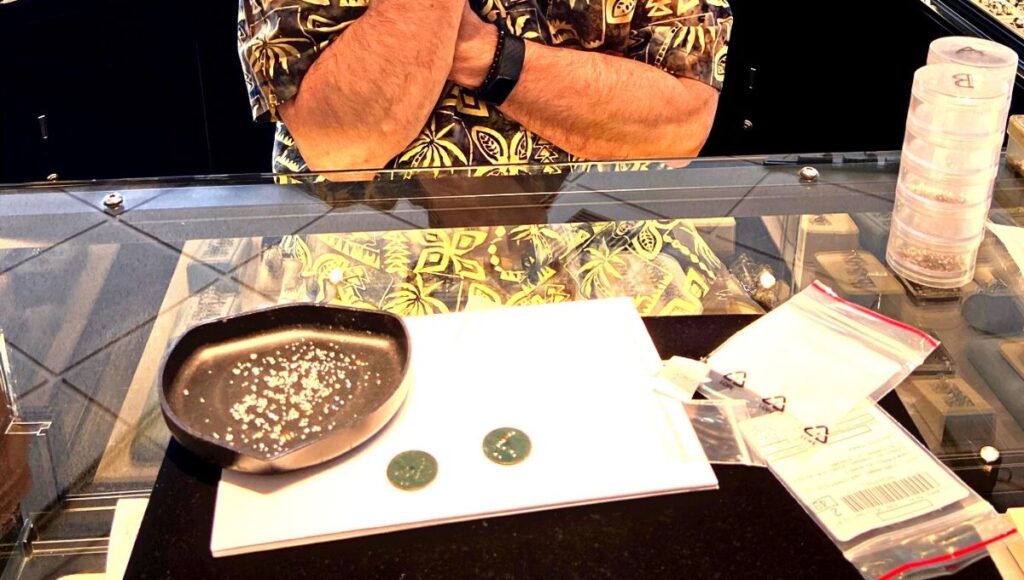 The next step is choosing the right size and color for the gemstones. There are so many different colors of topaz and shades of emerald; it is hard not to love them all. Rebecca wanted an Imperial Topaz for her friendship pendant. Also known as Precious Topaz, its natural apricot color is the rarest variation of this stone. So far, commercial deposits of imperial topaz come from a single area of the world: the Capão Topaz Deposit, Ouro Preto, Minas Gerais, Brazil.
Other topaz colors are possible beyond the standard shades of brown, pale yellow, and grey. Colorless topaz can transform under heat or radiation treatments.
As it turns out, the space for the gemstones inside the friendship pendants (as one of the stars in the constellation) was too small for the Imperial Topaz to show off its true colors. You need a bigger stone for all the peachy-pinky goodness to show. Vince suggested that a Passion Poppy Topaz, could stand in nicely for the Imperial as the focal point of Rebecca's pendant. The emerald for Angela's pendant is a petite but vivid green.
Custom Designs are a Collaboration Between Customer and Jeweler
With the major stones set, Vince (our master jeweler and founder of Lake Street Diamond) suggested the pendant design would benefit from small diamonds on each of the points that make up the zodiac design. This design addition ensures the pendant catches the light and sparkles any way you look at it.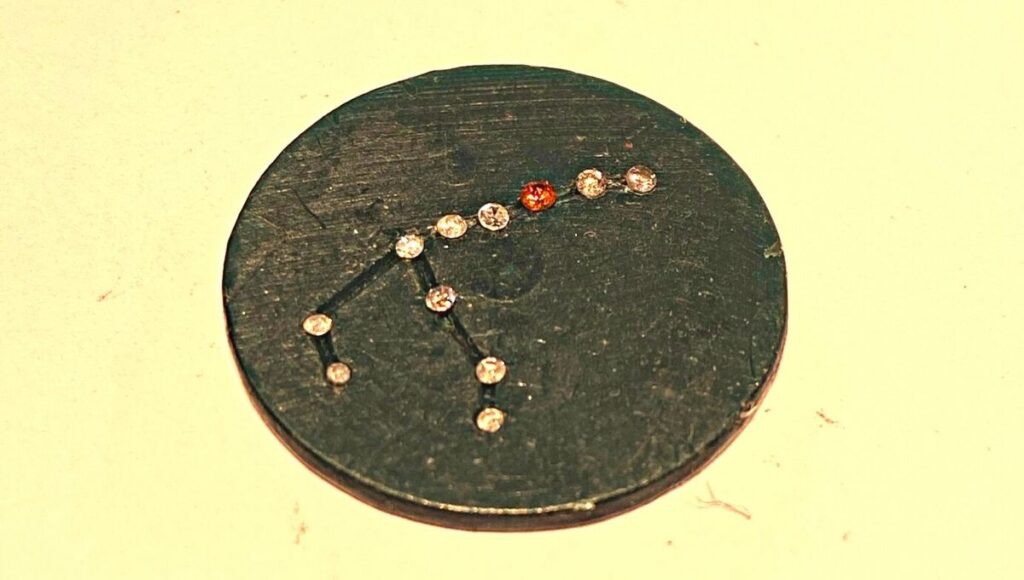 During the final pre-cast consultation, Lu (partner to Vince) had a brilliant idea. If you turned each constellation just so, you could line the zodiac signs to share a star point. A small but significant tweak in the design allows the emerald/topaz to shine through both sides of the pendant. The smaller diamonds we set more shallowly on one side. This lovely helped idea strengthen the connection between the two designs and the women wearing them.
Finishing the Friendship Pendants
Once the wax molds were made and the gemstones loosely set, we sent a few photos to Rebecca via text for final approval. We asked her if she wanted a smooth and shiny or a more rugged finish to the pendants. She requests a more hand-hewn look (a few small divots and brush marks) in keeping with her style. Receiving her enthusiastic "thumbs up," we cast the gold and finished the pendants in time for her best friend's arrival the following week.
Presenting the Gift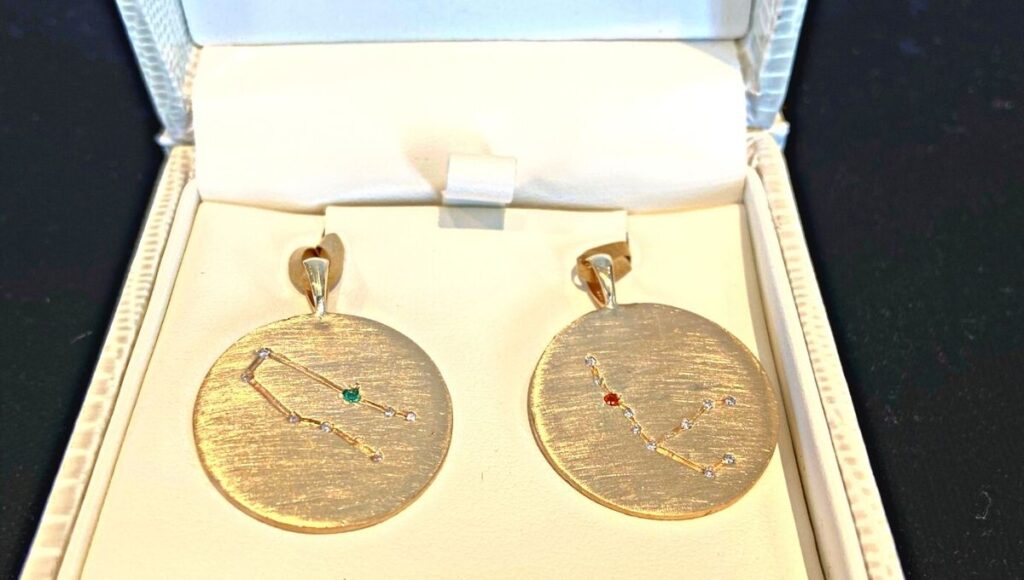 The two ladies got a seat at one of our local Kirkland eateries near the Kirkland Marina. After a celebratory toast, Rebecca presented our signature little white box to Angela's delight. She couldn't believe the care and ingenuity that went into creating this tender gift. After their lunch, they visited the store to meet and thank the team that made this moment a reality.
These are the moments that we live for. Being a local, family jeweler is so much more than filling a case with shiny objects. We've been a part of the fabric of so many lives these last 37 years, and it fills our hearts with joy.
What special milestone or relationship are you hoping to celebrate with the gift of custom jewelry? Stop by, email, or give us a call. We'd love to design something special for your special someone.