About Lake Street Diamond
Finding the right engagement ring, birthday or anniversary gift doesn't have to be stressful. The Lake Street Diamond Company experience is always welcoming and unhurried because what's important to us is the relationship, not the sale.
Our downtown Kirkland jewelry store has been a part of betrothals, promotions, retirements, anniversaries-all kinds of special occasions for over 35 years. When it's time to begin the next chapter of your story, we would be honored to help you find jewelry worthy of marking each milestone.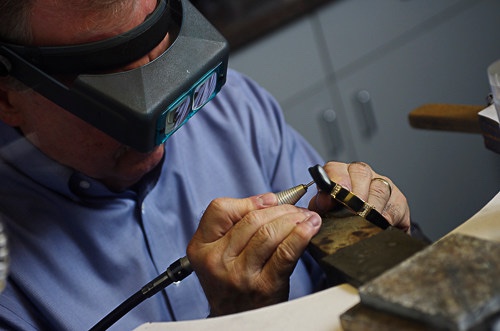 You'll find Vince at his workbench, goggles on, putting the finishing touches on a custom design, transforming a rarely worn heirloom into a cherished new treasure, or helping the recently engaged find the perfect set of wedding rings. He sees his role more as a facilitator than jeweler – assisting others in realizing a creative vision – through custom rings, bracelets, earrings, and necklaces.
Vince says, "When my customers walk out the door, I know we've created pieces they'll love and are designed to meet the demands of how they'll wear it."