A piece of unworn jewelry, especially an heirloom, has a story that means something to you. However, if it doesn't fit your style, we invite you give it new life and a new story.
Reclaim, Recreate, Remake – the 3 R's of the jewelry business.
Reclaiming Old, Unworn Jewelry
When thinking about the word reclaim, I'm sure a piece of jewelry isn't the first association that comes to mind. But before we dismiss this idea, let's explore it.
Think of a time that your Grandma or Great Aunt passed down an heirloom in your family for generations. They were so excited for you to have it! While smiling and saying "thank you," inside, you were rolling your eyes and thinking… "What am I ever going to do with this?" So, you stuck it in a drawer or the back of your closet. A piece of valuable but unworn jewelry goes into in your jewelry box and left it there for years.
One day you pick up that piece of jewelry and smile, remembering who gave you this gift. Now, you're ready to honor that person and that memory. Reclaim its history and add to it by recreating and remaking the piece into your own design.
The Life Ring – From Unworn Jewelry to Treasured Heirloom
We recently had a customer come in with jewelry gifted by her Mom, Dad, Grandma, and favorite Aunt. Remembering them was so important to her, but the current settings (especially her Dad's ring) just weren't her style.
She reclaimed it with a new "life ring" using stones from each of these treasured pieces.
Recreate Your Jewelry – How to Begin?
With a vision for breathing new life into her family jewelry, she also included stones from pieces that were given to her for special life moments such as her 16th birthday and graduation.
We started the design process by selecting the best stones to be set around a center pearl. She wanted an organic, freeform ring that would highlight the stones. The more unique, the better.
Once the stones were selected, we then "pulled" them from their existing mountings so we could measure their exact sizes. With sketches and stone measurements, we were off to the screen drawings.
CAD renditions let you see a 3-D depiction of your project in both casting and finished formats. It is so easy to make changes and adjustments at this point.
Remaking Old, Unworn Jewelry – How Do We Get it Right?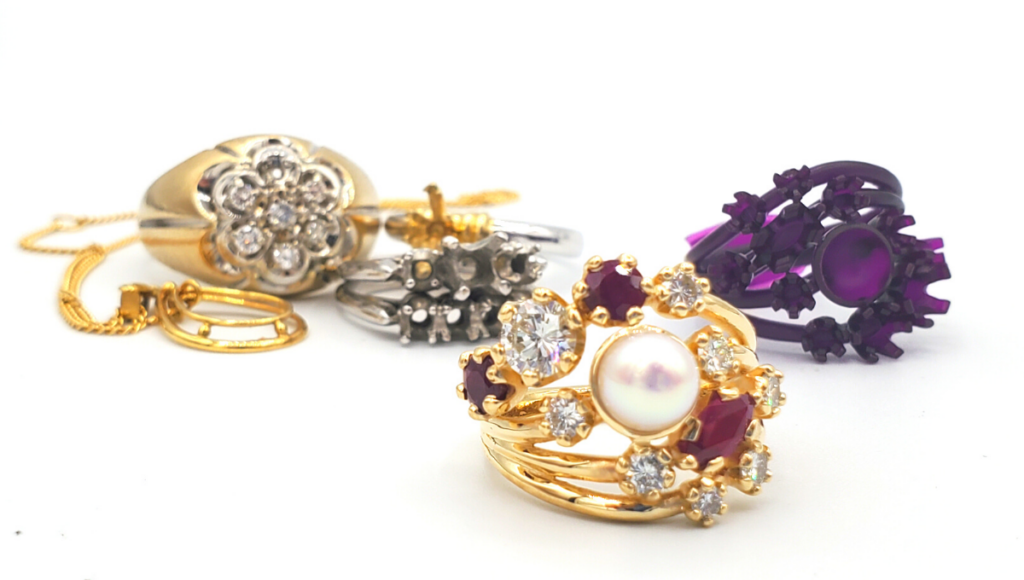 After our customer approved the CAD renditions, the next step is printing a 3-D model in resin from our in-house printer.
When she saw the printed resin, it was an "ah-ha" moment, as it became"real" at that point. Now she could see what her completed ring would look like, with room for her stones and pearl in the resin. She was just thrilled and told us to start casting!
Reveal – It's Time to See Your New Jewelry
Fast forward to Reveal Day, one of our favorite days!
We presented her with a closed white box. When she opened that, she found a white "treasure chest" box. When she lifted the domed lid, her beautiful new ring was revealed! Her first words were "It's perfect! Exactly what I wanted." Her life ring was now a reality and ready to start a new story and maybe even repeat history when given to the next generation!
What's sitting in your jewelry box just waiting to be reclaimed, recreated, and remade?
It's time to get that piece and your thoughts "out of the box" for a fabulous new design!